"Infested Oaks" Halloween Display, A Must-See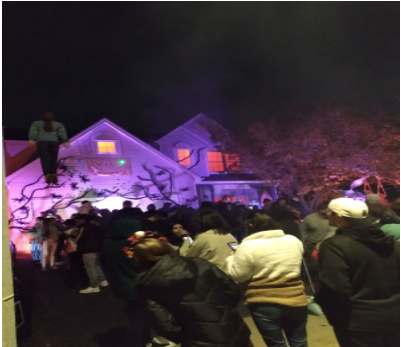 Starting in early August of this year, Plainfield couple David and Aubrey Appel started preparations for their Halloween display. Unbeknownst to them, it would take over the internet. By the beginning of October, they had finished their display and opened it up to the public. Before this was made possible, however, there was a decent bump in the road for this family. After controversial rumors made by a "furious" neighbor, such as the display being a cause for future home invasion and the endangerment of the community's children, the couple had to shutter the attraction to cut any further "negative attention". Thankfully, three days after the incident, the family talked to the Joliet Police Department and got assistance from Joliet and Plainfield trustees to keep the display up. Officers were stationed just outside the cul de sac in order to "keep the peace", and make sure everyone has a fun time during their visit. 
When passersby or visitors come by the two-story house, one feature stands out from the rest; a figure dressed as Max from the hit Netflix series Stranger Things floating mid-air above the ground. This element that the appel couple has come up with has been a major topic of conversation this Halloween season, not only in their town but all across the internet! Pilling up with theories about the cause of Max's levitation works, their wonderful display has not only caught just the eyes of the people, but also local news stations, Netflix, Good Morning America, and Jimmy Fallon! Aubrey, David Appel's Wife, told oncoming paparazzi that "It's like an easter egg. You have to use your imagination". David also revealed to one of the interviewers that it does not involve drones or helium-filled balloons. It was truly a sight to behold if you did ever take the time to visit this house and its display. If you do find the reason behind the floating trick, keep it to yourself, the stranger the speculations, the more fun the realization will be.