The Fill-in Boyfriend Book Review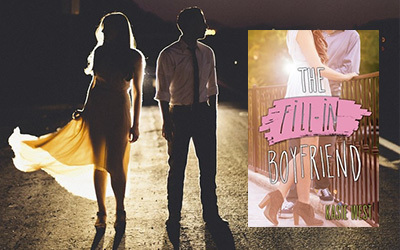 "The Fill-in boyfriend" by Kasie West is a book about a high school romance that takes place in a warm town in Florida. This book is having to do with what most teenagers go through in high school. Relationships. Relationships are very effective in ways that make people do crazy, weird things.
In the book, Gia Montgomery, a popular high school student, asked a stranger to be her date to the senior prom because of her boyfriend, Bradley, Gia's now ex-boyfriend in college, dumped her in the school parking lot. The strangers' name was Hayden, also known as The Fill-In Boyfriend. He's a nice, geeky high school student who helps Gia with her situation.
"My boyfriend just broke up with me. I'm sure you saw. And I really don't want to walk into my senior prom alone." "I need you to be him. Two hours. That's all I'm asking for." – Gia
"Fine." – Hayden
When Gia Montgomery's boyfriend dumps her in her high school parking lot on prom night, she decides to do the unthinkable. She convinces the cute guy waiting to pick up his sister to pretend to be her ex-boyfriend for the night. The task is simple; Two hours, zero commitment, a few white lies.
The Fill-In Boyfriend is an entertaining and sappy book because it is very eye catching and its very cliché.
"Work on the non-creepy version of the no-eye-contact thing." – Gia
"Well, I only have eyes for you, anyway." – Hayden
Gia finds out fill-in Boyfriend Bradley's real name is Hayden. They go to a movie with some people, including Hayden's ex-girlfriend, causing Hayden to ditch Gia for his ex, not knowing the effect it had on her.
Gia and Hayden went on a double date with Jules, Gia's friend who is always trying to make her mad, and her boyfriend. Meanwhile, Bradley shows up and tells Gia he misses her.
The problem is that Gia catches feelings for Hayden and days after the prom, Gia can't stop thinking about her fill-in boyfriend. Can Gia turn her fake boyfriend into a real one without exposing her lie and possibly destroying her friendships and her newfound relationship?