M3GAN Movie Review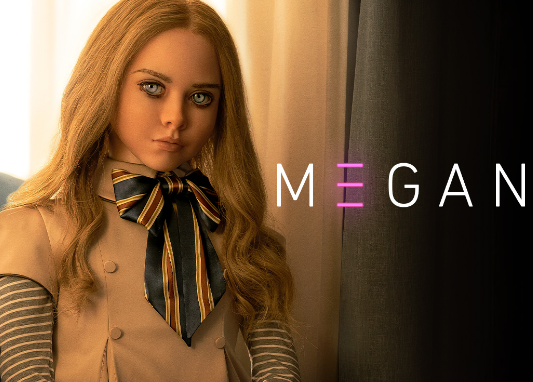 The plot centers on a recently orphaned child, Cady, played by Violet Mcgraw, whose parents died in a car accident on their way to a ski lodge vacation with Cady being the lone survivor. Cady's aunt, Gemma, played by Allison Williams, takes guardianship of Cady due to the recent tragic event. Gemma is a successful roboticist who makes technologically advanced toys for children. During Cady's grieving process, Gemma creates an artificial intelligence in a life-like doll form to help herself get in the hang of her new role of being a parent, which Gemma named Model 3 Generative Android, or M3GAN for short. M3GAN quickly becomes overly obsessed and protective of Cady, which leads to a creepy string of gruesome events that makes Gemma suspicious of the robot she created. 
The movie genre, officially horror, gives a comedic feel to the way the characters interact with each other throughout the movie. Connecting the film to another killer doll movie such as "Child's Play", it compares to the fact that they both have a comical theme to it. Contrary to the "Child's Play" movie where the doll kills for its self-preservation, M3GAN kills for Cady due to a code error where Gemma told M3GAN her job was to protect Cady. Without the correct code, M3GAN took this statement too literally, as she killed anyone who got in the way of her and Cady's friendship. 
Overall the movie didn't quite live up to the horror title with it being more amusing than anything with some gory scenes. Although, they crushed expectations and the box office accumulated $30 million in its opening weekend with critics like rotten tomatoes giving a rating of 94% overall and the audience giving a score of 74%. Altogether the movie M3GAN is an entertaining movie to watch during your free time and not a total waste of money.