Critical Grind Board Game Cafe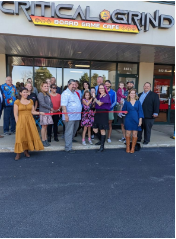 There is a new coffee shop at 852 Sharp Dr., Unit L in Shorewood. The cafe has a very cozy vibe and it's a nice place to hang out. They have a small menu that includes a variety of items such as coffee, tea, and special toasts. However, that is not the only thing they have. The cafe also has a wide range of board games and even offers special gaming nights, where you go to certain events and you can get a punch card and a free drink! Critical Grind has a game rental system along with gaming systems inside the cafe. The cafe offers a prescription of different levels with different benefits, but you don't have to get one at all. Instead, customers can choose to pay $4 a day per game for a week. The Grand Opening was on November 10, 2022! The owners are Dana Buxaum and Shaun Tennant. They both have been gaming for a long time and decided to open Critical Grind because of their love of coffee and board games. They have been working on opening the cafe since February of this year and they have around 5 employees.
They are open most days of the week, with each day having different hours. A personal favorite is the Baby Dragon's toast, which has peanut butter, Nutella, and banana. There are gluten-free and dairy-free options as well for people with specific needs. A cozy gaming area is available in the back with a large table and two other smaller tables with chairs. The cafe also offers an area for younger kids.