New Attendance Scanner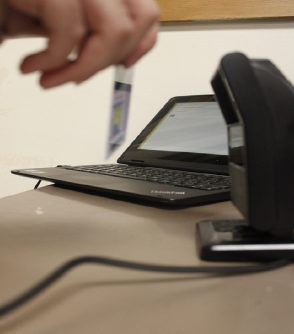 A new attendance scanner has been introduced at Joliet Central, the purpose of this is to make it easier for teachers to take attendance and for students to learn responsibility. A couple of classes were chosen to give their feedback on the new system, and although the system is still a work in progress, many have shown different opinions. 
The way this works is that when students come into the classroom there will be a barcode scanner with a computer next to it, students will then proceed to use their ID and scan with the small barcode and if students don't have their ID with them they can type their ID number in the computer. 
The person behind this idea is Jeff Riley, who was interviewed about the new attendance system. He was asked about the benefits of the new system, in which he answered that it is time efficient and more convenient for teachers and students. Instead of teachers wasting time by waiting for students to come in and mark them tardy, this new system can mark whoever is late tardy without having the teacher do anything. Another question I asked Jeff was how will this impact the next school year and potentially the future he answered by saying, "hopefully, it will create a culture of students feeling responsible for being on time rather than being late to class." He also mentioned that this new program will hopefully teach students the importance of being in class and taking accountability for lateness.