Chicago Sky Championship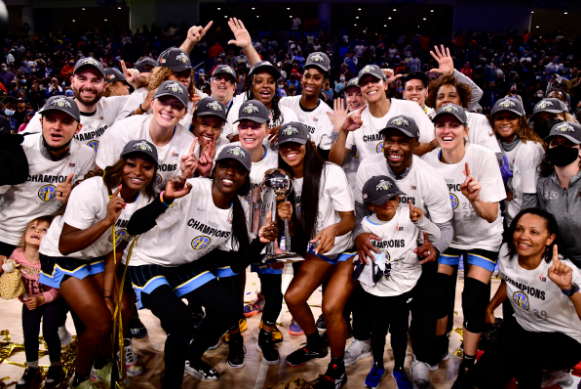 It was a great day for Chicago on October 17th 2021, the Chicago Sky girl's basketball team won their first championship! The Sky's was formed before the WNBA season began in 2006 by Dave Cowens. Overall the Sky's enormously advanced team, but surprisingly could never win a championship. In 2009 they were dedicated to get to the playoffs but unfortunately they were eliminated from playoff contention. Also in 2009 the Sky's announced the team's new arena which is Allstate Arena.
As the Sky's continued, in the 2010 they made some different arrangements, Candice Durpee to the Phoenix Mercury and then traded Kristi Toliver to the Los Angeles Sparks. As the season progressed ended up losing their first four games, but it didn't end their losing streak. They ended up losing  eight of their final ten games of the season which eliminated them from the playoffs. As time went on in 2016 The Sky held a 6-9 record following the break and they notched a 13-7 record. In 2017 the sky wanted to take a rebuilding year due to they got a new head coach and general manager Amber Stocks.
Additionally, starting off the finals this year the team 1.5 net rating was sixth in the league and the lowest mark of any WNBA champion. So assuming they had no idea that they could win the championship. In game one The Sky's went against The Sun's. The Sky's won 101 to 95, second game The Sky's lost 68 to 79. Continuing, The Sky's won the third and fourth game, 86 to 83 and 79 to 69 which led them to the final's. Starting the finals The Sky's won games out of 4 games while the Mercury's won 1 games. So, in game 4 The Sky's was down 9 points but quickly but trailed behind. Ending the game The Sky's won 80 to 74!
Some quotes from games made by Chicago's sky team and supporters, "It feels amazing," Candace Parker said. "Look at the city, man. They all showed up". "We stayed together," Sky Coach James Wade said. "It was insane — the ground was shaking," Chance the Rapper said. "We did this for each other," said Allie Quigley. Former president Barack Obama even congratulated The Sky's on their win on twitter "Congrats to our new WNBA champs, @ChicagoSky! I couldn't be prouder of this team — they worked hard for this moment, and have made our city proud."