Squid Game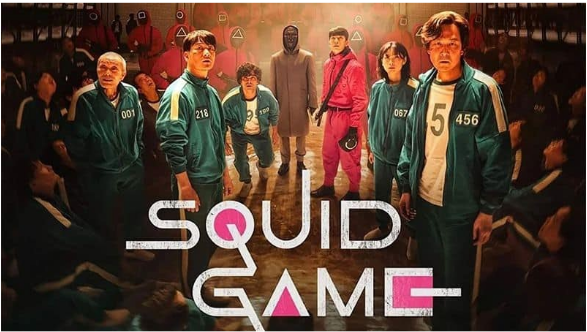 In 2021, a show by the name of "Squid Game" has blown up on social media platforms worldwide by captivating viewers with relatable characters and a rollercoaster of emotions throughout the 9 episodes that make up Within roughly one month, Squid Game has become the most watched show on Netflix, and has so far made over 800 million dollars; the show only took about 24 million to create. The creator of the show, Hwang Dong-hyuk, shockingly got his idea of Squid Game rejected for over a decade. Little did Hwang and the people that rejected his idea(s) know  that Squid Game would break the internet and have everyone watching the show.
The basic gist of the show is a group of middle class people in South Korea compete against each other in a remote island underground to win billions of Yuan (Korean currency). One thing that all of the competitors have in common is the fact they are all in millions, some even billions in debt. So, having no other option to escape their realities, 456 random players are chosen throughout South Korea and comply with the game's rules.
All the players are made to play childhood games, and if they fail, they get killed by a guard. However, every game is different from each other and stands out from independence to teamwork, and at times even betrayal. But the plot and situations that the characters are forced to do aren't exactly the reason people watched the show; the characters themselves made people interested in the show. Over time, we feel connected to each character as they risk their lives to try and win each game. The tension and anxiety you can feel for the characters that you've been rooting for the entire show while they're going through a variety of death traps really sets a person at the edge of their seat; Squid Game does a great job at that each episode. Overall throughout the show, people slowly understand why it's so popular and hyped over social media worldwide, and that's because of the emotional connections it makes us feel at times with our beloved characters.